Dental Services for Children
Clovercrest Dental Surgery Loves Kids
Dr Vonny Yang (Dentist) has spent extensive amounts of time treating young and anxious children.
At our family practice, we strive to create a comfortable and relaxing atmosphere for everyone in your home. If you're a parent who is looking for a dental provider that treats all ages, you've come to the right place!
Child Dental Benefits Schedule (CDBS) Accepted
Is your family eligible for CDBS benefits? We provide bulk billing for all CDBS enrolees, so that you can enjoy gap free appointments designed to fit your budget. Qualifying children receive up to $1,000 in dental care over the course of two years, including all basic preventative services. Private health funds are also accepted. We're a preferred provider for HCF, BUPA and Medibank.
Why a Family Dentist for Your Child?
We offer a very friendly atmosphere and staff who love working with kids. While your family is here for their appointments, there are plenty of things for your children to do for entertainment.
Our reception room is stocked with colouring books, toys and we even have a ceiling mounted television above the dental chair — your child can watch their favourite show during their checkup! There's a good chance they may not want to leave. Their experience in our practice isn't like what it was when we were younger. Plus, you can book everyone's checkup in one place.
Want to Learn More?
Contact us today to schedule a convenient appointment for you and your children on the same day. Emergency services are also available.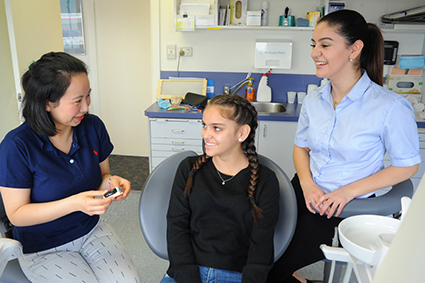 Paediatric Dentist Modbury North, North East Adelaide SA | Clovercrest Dental Surgery | (08) 8396 4192