Root Canal Treatments at
Clovercrest Dental Surgery
A root canal allows you to preserve a badly decayed or infected tooth, rather than extract it. By maintaining your natural smile for as long as possible, you can prevent the need for additional treatments like bridges or dental implants.
Dr Vonny Yang implements advanced technology to make your root canal as gentle and efficient as possible, providing you with the best results.
Rotary Endodontic Technology
Traditionally, root canal treatments were both tedious and time consuming. Not only was this challenging for the dentist, but it meant the patient had to sit for longer procedures (often causing their jaws to get sore).
To eliminate this problematic aspect of endodontic therapy, Dr Vonny has invested in rotary technology that provides quicker, more efficient treatment that doesn't compromise the quality of your care experience.
Additionally, rotary endodontics provide a better outcome than conventional manual root canal treatments. As a result, you'll enjoy a more comfortable appointment and a far shorter procedure time.
Why Root Canals are Necessary
When the nerves inside of teeth become infected, abscessed or start to die, it's not possible to patch the affected tooth up with a filling or cover it with a crown. Instead, the damaged nerve needs to be removed. Otherwise a recurring infection and eventual tooth loss would take place.
You may need to have an endodontic procedure if you've experienced:
> A noticeable abscess along the gums
> Severe trauma, such as a car accident
> Large area of tooth decay
> Toothache
In some cases, untreated dental abscesses can be life threatening or result in hospitalisation. We make it our goal to treat dental infections before they have a chance to become so severe.
Want to Learn More?
If you suspect that you may need a root canal or would like a second opinion about a specific tooth, contact us today.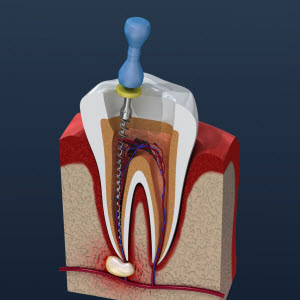 Root Canal Treatment Modbury North, North East Adelaide SA | Clovercrest Dental Surgery | (08) 8396 4192